***
INTAEGER COLLECTIVE
***
Frauke, Daniela, and Seçkin are sensuality-positive artists & holistic-spiritual body researchers. As Agents of Ecstasy, they research in the areas of Genius Embodiment, Emotional Intelligence, Intimacy & Sexuality, Health, (collective) Trauma, Rite of Passage and Mysticism. They use the evolutionary strategies of performance art, visual art, music, fantasy & poetry, humor and (F)luxus to create transformative experiences for themselves and their guests.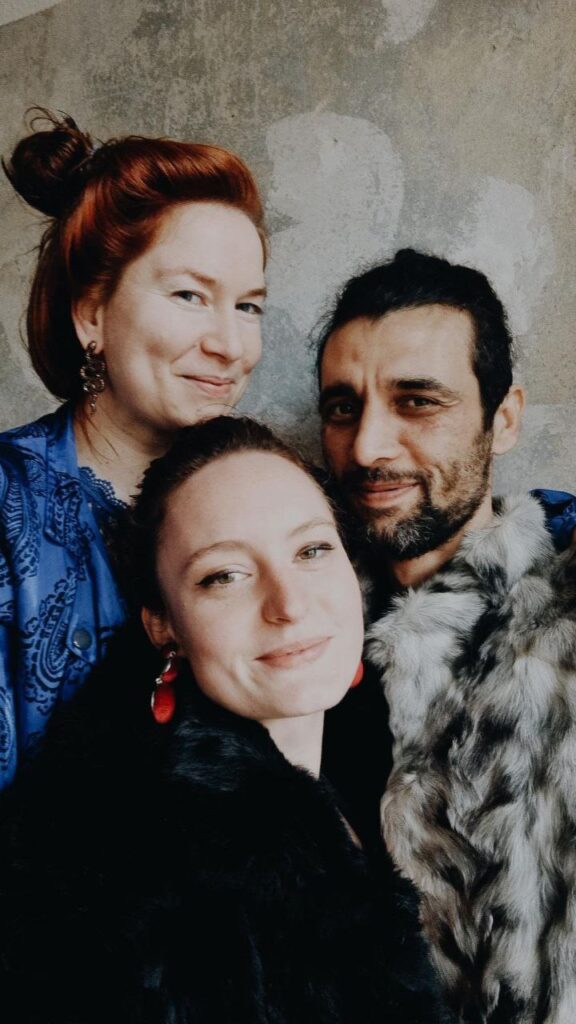 Starting from the question of an integrated life as part of a society that is latent stressed, depressed, and sensuality-unfriendly, the central focus is always on the de-stressing of the nervous system and the subjective feeling of security, and ultimately, the cultivation of the quiet mind (conscious witness) and the guidance of the released energy towards the Hridaya – the spiritual heart.
When the flow of life energy is freed, creative expression, productivity, and the reception of visions are a natural consequence and returns to pleasurable, even – brilliant – expression. In our formats, we approach the question of the ideal conditions for this and make them accessible in our experience spaces.
---
---
"Through our holistic body work, we see and prove: What the mind suppresses, the body expresses. Our fast-paced, over-stimulating, numbing lifestyle, especially due to the rapidly increasing digitization of all aspects of life and learning, leads to insidious illness and loss of joie de vivre. Unmet needs and signals of the body-mind-soul system are hardly noticed anymore and we no longer feel ourselves. The numbing of our senses and sensuality leads to meaninglessness. This also affects the basic condition of our existence: our sexuality as well as the ecological balance of our planet Earth."
***
Salon for Sensualities
***
Our Salon for sensualities and natural aesthetics represents the symbiosis of art and pleasure, relaxation and ecstasy. What pleases and is possible is allowed. In our premises, we welcome you in an atmosphere of absolute exclusivity and privacy. Your well-being and the quality of your sensual-spiritual experience are of the utmost importance. At the same time, we remain true to our most important value: our integrity, which is reflected in the word "INTEGER". To ensure that you have the best experience possible, we invite you to enter the mode of abundance, pleasure and generosity with us.
Our work
Our work
…is cognitively not fully graspable and describable. We have a few formats that you can book – and yet we only know what we are doing when we actually meet you. That's why you should trust your decision from your heart, from your desire or curiosity. Make an inner emotional image and come to us. We work on requests and orders.
We are intelligent, self-confident & passionate. The awakened senses are our desire. We are specialists of liveliness and (touch) art. It is a common adventure journey. When we fulfill the wishes and fantasies of our guests, we fulfill our own at the same time. We are freelance artists and embody – from the tradition of the muses – lustful, creative women. We inspire and strengthen each other and experiment with our (sexual) identities.
Conventions are invitations to us to try healthy-eccentric exceptions. We also love the withdrawn existence, especially in nature – the delicate and quiet processes of life, which are usually drowned out by the everyday routine. Muse-time! Playful interchange between timeless relaxation and stimulating inspiration. Honest, curious and always looking for real intimacy and human closeness.
Are you confused 😉 by the spectrum of our offers?
Click through 5 multiple choice questions and get a personal recommendation.👇🏽
---
---
Reset- & – DeepSurrender-Entspannungsmassagen
psymagic-spiritual Journeys
individuelle Sessions
BusinessCoaching
Für Paare: Massagen, Rituale, Coaching, After-Wedding, Fotografie
Transformative Rite of Passage / Archetype-Embodiment
intellektueller Austausch: Intaeger Musing, Salon-Abende
Blumenkunst & Fine-Art-Prints (ONLINE-SHOP) oder direkt im Salon zu erwerben
---
You would like to CoCreate?
---
---
---
---